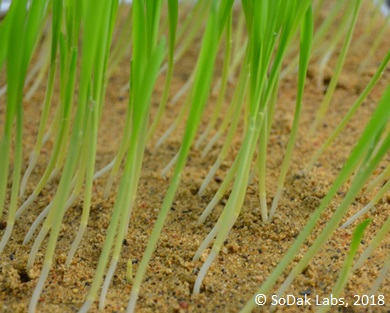 Tray Cold Method
Two hundred seeds are planted on chilled media to emulate a 50-52°F water uptake. The cold duration is seven days at 50°F, followed by a grow out at 77°F until 120+ Growing Degree Day (GDD) units are reached.  Check samples are planted and evaluated in every cart to assure consistency in testing.
Pre-Conditioned Tray Cold Test
Specifically offered for new crop seed in September and October. Seed receives a 48-hour warm air conditioning process to equilibrate seed moisture content. Seed is then planted and evaluated as a standard tray cold test.
What is Reported
Seedlings are evaluated as normal, abnormal or uniformity varies (UV). Report of analysis includes normal and UV (weak normal) percentage as well as remarks regarding the normal or abnormal seedlings.
Value of Results
This test provides an estimate of seedling emergence under ideal soil tilth with 50°F seed zone temperature.
Agronomically Accurate Seed Testing Results
SoDak Lab's goal is to deliver fast, accurate, and diagnostic seed testing services.